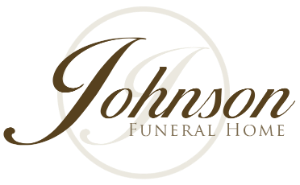 Immediate Need:
(315) 639-6257

In this section, we have gathered information that will answer our most commonly-asked questions. You'll find answers for general questions in our FAQ, and more specifics about Social Security, veterans benefits, what to do when a death occurs, and special things to consider when a death occurs away from home. We would also like for you to visit our local resources page.



What purpose does a funeral serve?

The funeral expresses the life and faith of the deceased while providing comfort and support to family and friends. Funerals are arranged services designed to invoke religious rituals, honoring the deceased and fulfilling the needs of the family. The funeral provides survivors with a foundation of hope and peace for their future.

What do funeral directors do?

Funeral directors are trained, experienced professionals who assist families from the moment a death occurs until well after services are completed. Their work involves dignified care of the deceased while counseling survivors on designing services that fulfills their needs. The funeral director is responsible for organizing all aspects of funeral services and providing families with choices and options that will fulfill The are caring dignified people who help families organized wakes and funerals and are responsible for every aspect evolved in these services. Funeral directors are caregivers and administrators. They make the arrangements for transportation of the body, complete all necessary paperwork, and implement the choices made by the family regarding the funeral and final disposition of the body. Funeral directors are listeners, advisors and supporters.

Why have a public viewing?

Viewing is part of many cultural and ethnic traditions. Many grief specialists believe that viewing aids the grief process by helping the bereaved recognize the reality of death. Viewing is encouraged for children, as long as the process is explained and the activity voluntary.

Is it possible to have a traditional funeral if someone dies of AIDS?

Yes, A person who dies of an AIDS-related illness is entitled to the same service options afforded to anyone else. If public viewing is consistent with local or personal customs, that option is encouraged. Touching the deceased's face or hands is perfectly safe. Because the grief experienced by survivors may include a variety of feelings, survivors may need even more support than survivors of non-AIDS-related deaths.

Isn't burial space becoming scarce?

While it is true some metropolitan areas have limited available cemetery space, in most areas of the country, there is enough space set aside for the next 50 years without creating new cemeteries. In addition, land available for new cemeteries is more than adequate, especially with the increase in entombment and multi-level grave burial.


Embalming Questions
What is the purpose of embalming?

Embalming sanitizes and preserves the body, retards the decomposition process, and enhances the appearance of a body disfigured by traumatic death or illness. Embalming makes it possible to lengthen the time between death and the final disposition, thus allowing family members time to arrange and participate in the type of service most comforting to them.

Does a dead body have to be embalmed, according to law?

No. Most states, however, require embalming when death was caused by a reportable contagious disease or when remains are to be transported from one state to another by common carrier or if final disposition is not to be made within a prescribed number of hours. However, if there is to be a public viewing most funeral homes require embalming for the general publics health and safety.


Cremation Questions
Is cremation a substitute for a funeral?

No, cremation is an alternative to earth burial or entombment for the body's final disposition and often follows a traditional funeral service. In fact, according to FTC figures for 1987, direct cremation occurred in only 3% of deaths.

So, I've decided on cremation. Can I still have a funeral or a viewing?

Yes, quite often some sort of viewing precedes the actual cremation. Your Funeral Home can assist you with the necessary information for a funeral with a cremation following or a memorial service.

What to do if a Death Occurs

What should I do if the death occurs in the middle of the night or on the weekend?

Most Funeral Directors are available 24 hours a day, seven days a week. Click here for more information.

Will someone come right away?

If you request immediate assistance, yes. If the family wishes to spend a short time with the deceased to say good bye, it's acceptable. They will come when your time is right.

If a loved one dies out of state , can the local Funeral Home still help?

Yes, they can assist you with out-of-state arrangements, either to transfer the remains to another state or from another state. Click here for more information.

The following checklist is designed to help you file for your Social Security benefits correctly so that prompt payments may be made.

ELIGIBILITY

The deceased worker must have credit for work covered by Social Security, ranging from 1 1/2 to 10 years depending on his or her age at death. WHO MAY RECEIVE MONTHLY BENEFITS

A widow or widower age 60 or older (50 if disabled), or at any age if caring for an entitled child who is under 16 or disabled.

A divorced widow or widower age 60 or older (50 if disabled) if the marriage lasted 10 years, or if caring for an entitled child who is under 16 or disabled.

Unmarried children up to 18 (19 if they are attending a primary or secondary school full lime).

Children who were disabled before reaching 22, as long as they remained disabled.

Dependent parent or parents 62 or older. LUMP-SUM DEATH PAYMENT

A one time payment of $255 is paid in addition to the monthly cash benefits described above. The lump-sum death payment (LSDP) is paid in the following priority order:

A surviving spouse who lived in the same household as the deceased person at the time of death.

A surviving spouse eligible for or entitled to benefits for the month of death.

A child or children eligible for or entitled to benefits for the month of death. APPLYING FOR BENEFITS

You must apply in order to receive benefits. You may apply at any Social Security office or, if you wish, you may apply by telephone. Just dial the toll-free number 1-800-772-1213 and the operator will schedule an appointment for you or arrange for the local Social Security office to take your claim by telephone.

SOCIAL SECURITY TELESERVICE - DOING BUSINESS BY TELEPHONE

You may call Social Security toll-free, 365 days a year, 24 hours a day. The number to use is 1-800-772-1213. Or to call locally (828)251-9941. To speak with a representative, call between the hours of 7:00am and 7:00pm on regular business days. At other times and on weekends and holidays, you may leave a message and they will call you back, in most cases, the next business day.

You may use the toll-free number to make an appointment either in a Social Security office or telephone to apply for benefits, transact other Social Security business, or just ask questions.
Reimbursement of Burial Expenses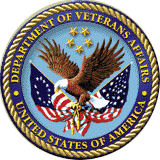 VA will pay a burial allowance up to $2,000 if the veteran's death is service connected. VA also will pay the cost of transporting the remains of a service-disabled veteran to the national cemetery nearest the home of a deceased that has available gravesites. In such cases, the person who bore the veteran's burial expenses may claim reimbursement from VA. VA will pay a $300 burial and funeral expense allowance for veterans who, at time of death, were entitled to receive pension or compensation or would have been entitled to compensation but for receipt of military retirement pay. Eligibility also is established when death occurs in a VA facility or a nursing home with which VA contracted. Additional costs of transportation of the remains may be reimbursed. There is no time limit for filing reimbursement claims of service-connected deaths. In other deaths, claims must be filed within two years after permanent burial or cremation.

VA will pay a $300 plot allowance when the veteran is not buried in a cemetery that is under U.S. Government jurisdiction if the veteran is discharged from active duty because of disability incurred or aggravated in line of duty, if the veteran was in receipt of compensation or pension or would have been in receipt of compensation but for receipt of military retired pay, or if the veteran died while hospitalized by VA. The plot allowance is not payable solely on wartime service.

If the veteran is buried without charge for the cost of a plot or interment in a state-owned cemetery reserved solely for veteran burials, the $300 plot allowance may be paid to the state. Burial expenses paid by the deceased's employer or a state agency will not be reimbursed.

Burial Flags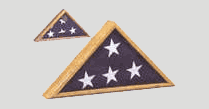 VA provides an American flag to drape the casket of a veteran and to a person entitled to retired military pay. After the funeral service, the flag may be given to the next of kin or a close associate. VA also will issue a flag on behalf of a service member who was missing in action and later presumed dead. Flags are issued at VA regional offices, national cemeteries, and post offices.

Burial in National Cemeteries, VA Cemeteries

Burial benefits in a VA national cemetery include the gravesite, opening and closing of the grave, and perpetual care. Many national cemeteries have columbaria for the inurnment of cremated remains or special gravesites for the burial of cremated remains. Headstones and markers and their placement are provided at the government's expense.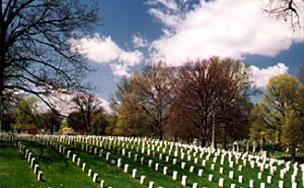 Veterans and armed forces members who die on active duty are eligible for burial in one of VA's 114 national cemeteries. An eligible veteran must have been discharged or separated from active duty under honorable or general conditions and have completed the required period of service. Persons entitled to retired pay as a result of 20 years creditable service with a reserve component are eligible. A U.S. citizen who served in the armed forces of a government allied with the United States in a war also may be eligible.

Spouses and minor children of eligible veterans and of armed forces members also may be buried in a national cemetery. A surviving spouse of an eligible veteran who married a nonveteran, and whose remarriage was teminated by death or divorce, is eligible for burial in a national cemetery.

Gravesites in national cemeteries cannot be reserved. Funeral directors or others making burial arrangements must apply at the time of death. Reservations made under previous programs are honored. The National Cemetery System normally does not conduct burials on weekends. A weekend caller, however, will be directed to on eof three strategically located VA cemetery offices that remain open during weekends to schedule burials at the cemetery of the caller's choice during the following week.

Headstones and Markers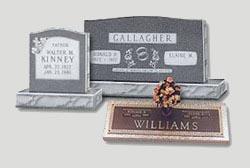 VA provides headstones and markers for the unmarked graves of veterans anywhere in the world and for eligible dependents of veterans buried in national, state veteran or military cemeteries.

Flat bronze, flat granite, flat marble, upright granite and upright marble types are available to mark the grave in a style consistent with the place of burial. Niche markers also are available to mark columbaria used for inurnment of cremated remains.

Headstones and markers are inscribed with the name of the deceased, the years of birth and death, and branch of service. Optional items that also may be inscribed at VA expense are: military grade, rank or rate; war service such as World War II; months and days of birth and death; an emblem reflecting one's beliefs; valor awards; and the Purple Heart. Additional items may be inscribed at private expense.

When burial is in a national, state veteran or military cemetery, the headstone marker is ordered through the cemetery, inscription, shipping and placement can be obtained from the cemetery.

When burial occurs in a cemetery other than a national, military post or state veterans cemetery, the headstone marker must be applied for from VA. It is shipped at government expense. VA, however, does not pay the cost of placing the headstone or marker on the grave. To apply, you must complete VA form 40-1330 and forward it to Director, Office of Memorial Programs (403A), National Cemetery System, Department of Veterans Affairs, Washington, DC 20420. Forms and assistance are available at VA application you may call the Director, Office of Memorial Programs at 1-800-697-6947.

VA cannot issue a headstone or marker for a spouse or child buried in a private cemetery. Twenty year reservists without active duty service are eligible for a headstone or marker, if they are entitled to military retired pay at the time of death.

Headstones or Markers for Memorial Plots
To memorialize an eligible veteran whose remains are not available for burial, VA will provide a plot and headstone or marker in a national cemetery. The headstone or marker is the same as that used to identify a grave except that the mandatory phrase "In Memory of" precedes the authorized inscription. The headstone or marker is available to memorialize eligible veterans or deceased active-duty members whose remains were not recovered or identified, were buried at sea, donated to science, or cremated and scattered. The memorial marker may be provided for placement in a cemetery other than a national cemetery. In such a case, VA supplies the marker and pays the cost of shipping, but does not pay for the plot or the placement of the marker. Only a relative recognized as the next of kin may apply for the benefit.

Presidential Memorial Certificates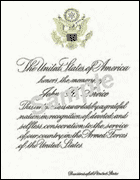 The Presidential Memorial Certificate is a parchment certificate with a calligraphic inscription expressing the nation's recognition of the veteran's service. The veteran's name is inscribed and the certificate bears the signature of the President. Certificates are issued in the name of honorably discharged, deceased veterans. Eligible recipients include next of kin, other relatives and friends. The award of a certificate to one eligible recipient does not preclude certificates to other eligible recipients. The veteran may have died at any time in the past. The local VA regional office generally originates the application for a Presidential Memorial Certificate. The next of kin also may request a certificate. Requests should be accompanied by a copy of a document such as a discharge to establish honorable service. VA regional offices can assist in applying for certificates.
Make appointment with the Funeral Home by calling 828-252-3535. The funeral home will help coordinate arrangements with the cemetery. Some information to complete the State vital statistic requirements.
- Birth Date
- Birthplace
- Father's Name
- Mother's Name
- Social Security Number
- Veteran's Discharge or Claim Number
- Education
- Marital Status
Contact your clergy. Decide on time and place of funeral or memorial service. This can be done at the funeral home.
The funeral home will assist you in determining the number of copies of the death certificates you will be needing and can order them for you.
Make a list of immediate family, close friends and employer or business colleagues. Notify each by phone.
Decide on appropriate memorial to which gifts may be made (church, hospice, library, charity or school).
Gather obituary information, including age, place of birth, cause of death, occupation, college degrees, memberships held, military service , outstanding work , list of survivors in immediate family. give time and place of services. The funeral home will normally write article and submit to newspapers (newspaper will accept picture and they will be returned intact).
Arrange for members of family or close friends to take turns answering door or phone, keeping careful record of calls.
If Social Security checks are automatic deposit, notify the bank of the death.
Coordinate the supplying of food for the next several days.
Consider special need of the household, such as cleaning , etc., which might be done by friends.
Arrange for child care, if necessary.
Arrange hospitality for visiting relatives and friends.
Select pallbearers and notify the funeral home. (Avoid anyone with heart or back difficulties , or make them honorary pallbearers).
Plan for disposition of flowers after funeral (church, hospital or rest home)
Prepare list of distant persons to be notified by letter and/or printed notice, and decide which to send to each.
Prepare list of persons to receive acknowledgments of flowers, calls, etc. Send appropriate acknowledgments (can be written note, printed acknowledgments, or some of each). Include "thank you's" to those who have given their time as well.
Notify insurance companies.
Locate the will and notify lawyer and executor.
Check carefully all life and casualty insurance and death benefits , including Social Security, credit union , trade union, fraternal, and military. Check also on income for survivors from these sources.
Check promptly on all debts and installment payments, including credit cards. Some may carry insurance clauses that will cancel them. If there is to be a delay in meeting payments, consult with creditors and ask for more time before the payments are due.
If deceased was living alone, notify utilities and landlord and tell post office where to send mail.
Funeral Director will prepare Social Security Form SSA 721. Check with Social Security to see that number is retired.
When funeral arrangements must unexpectedly be made away from home, and family hearts are filled with mixed emotions, it is difficult to consider costs. If you want to limit costs, the best practice is to contact the funeral firm in the area where the funeral service and burial is to take place.

What to do first
Call the Johnson Funeral home any time, day or night.

We take charge from then on and make all the arrangements for conveying of the deceased to the local funeral home for embalming and preparation for return to their home state. You only need contact us with some basic information and call us when you return to set a time for an arrangement conference. For us to assume the costs as outlined, the death must have occurred in one of the forty-eight contiguous states and you must call us direct so we can engage our representatives at the place of death. (Do not contact a funeral firm where the death occurs. We must do this.)

The standard receiving policy in most other funeral homes is to give you a credit for the embalming against their standard prices. You must pay all other charges such as transfer casket, transfer container, out-of-town funeral home facilities, professional and staff services, transfer documents and transportation charges. These costs can easily mount up to $1200 dollars or more, depending on the cost of transportation and charges of the out-of-town funeral home. Transportation costs differ and fees are not uniform from funeral home to funeral home, so we cannot say exactly how much this might be.

Monument companies

A Cozzi & Co Monuments 619 Mill St Watertown NY 13601 315-788-3450

Wilson Monument Company 865 Coffeen St Watertown NY 13601-2316 315-786-8374


Religious facilities


Dexter Churches Dexter Presbyterian Church 118 W Kirby St, Dexter, NY (315) 639-6958

Dexter United Methodist Church 210 W Kirby St, Dexter, NY (315) 639-3022

St Elizabeth Church 227 E Bronson St, Dexter, NY (315) 639-3888

Faith Fellowship 17315 Nys Route 12F, Dexter, NY (315) 639-4390

St Paul's Episcopal Church 212 Washington St, Brownville, NY (315) 788-8299


Sackets Harbor Churches:
St. Andrews Catholic Church, 110 E. Main St., Sackets Harbor 646-3341

United Presbyterian Church of Sackets Harbor- 101 S. Broad St. Sackets Harbor- 646-2077

St. Johns Episcopal S. Broad St. Sackets Harbor- call St. Pauls' at 788-3730 (shared ministry)


Chaumont Churches:

All Saints Catholic Church 27396 Madison St., Chaumont 649-2717

Chaumont Presbyterian Church 27532 Church St. Chaumont 649-5320

Three Mile Bay Methodist 8580 State Rte. 12E, Three Mile Bay 649-2600


Watertown Churches:

Christian Life Center A United Pentecostal Church 25785 State Route 126 Watertown NY 13601 315-788-6234

Thomas Memorial AME Zion Church 715 Morrison St Watertown NY 13601 315-782-2085

Cornerstone Assembly Of God http://www.agcornerstone.com/hope.htm 231 S Massey St Watertown NY 315-788-9052

Watertown Assembly Of God 116 Haley Watertown NY 13601 315-788-8885

Fellowship Baptist Church 20886 State Route 3 Watertown NY 315-788-6155

First Bapt Church 207 State St Watertown NY 13601-2604 315-782-1051

Grace Baptist Church 1204 State St Watertown NY 315-782-0620

Korean Baptist Church Of Watertown 267 E Main St Watertown NY 315-786-0250

Maranatha Bible Baptist Church 622 Boyd St Watertown NY 13601-3428 315-786-1881

New Hope Baptist Church 19983 State Route 3 Watertown NY 13601-5502 315-782-9908

Watertown Baptist Temple 26200 State Route 3 Watertown NY 315-782-5019

First Baptist Church of Watertown 207 State St., Watertown, NY 13601 (315) 782-1051 Pastor: Rev. Timothy LaBouf

Grace Wesleyan Church 311 Prospect St.,, Watertown, NY 13601 (315) 788-1064

Sacred Heart Our Lady Of 664 Thompson St Watertown NY 13601 315-782-1353

Our Lady Of Sacred Heart 320 W Lynde St Watertown NY 13601 315-782-1474

Rev Msgr Robert L Lawler 119 W Main Brownville NY 13615 315-782-1143

Missionaries Of The Sacred Heart 668 Thompson St Watertown NY 13601 315-782-3480

St Anthony's Church 850 Arsenal St Watertown NY 13601 315-782-1190

St Patrick's Church 724 Ives St Watertown NY 13601 315-782-6086

Holy Family Church 129 Winthrop St Watertown NY 315-782-2468

Missionaries Of The Sacred Heart 668 Thompson St Watertown NY 13601 315-782-3480

Sacred Heart Our Lady Of 320 W Lynde St Watertown NY 13601 315-782-1474

St Patrick's Church 724 Ives St Watertown NY 13601 315-782-6086

Sisters of the Precious Blood 400 Pratt St., Watertown, NY 13601 (315) 788-1669

Sisters of the St. Joseph 1425 Washington St., Watertown, NY 13601 (315) 782-3460

Parkside Bible Church 491 Eastern Blvd Watertown NY 315-782-6534

Christian & Missionary Alliance Church 491 Eastern Blvd Watertown NY 13601-3107 315-782-6534

Church of Christ 1426 Washington St Watertown NY 13601-9301 315-788-4103

Emmanuel Congregational Church UCC 119 S Hamilton St Watertown NY 315-782-2650

Holy Covenant Church Of God 207 W Lynde St Watertown NY 315-785-8775

Family Worship Center Church Of God In Christ 520 Meade St Watertown NY 315-788-4976

Emmanuel Congregational Church UCC 119 S Hamilton St Watertown NY 315-782-2650

St Vasilios Greek Orthodox Church 502 Franklin St Watertown NY 13601-3406 315-788-4920

Trinity Episcopal 227 Sherman St Watertown NY 13601-3611 315-788-6290

St Paul's Episcopal Church 314 Clay St Watertown NY 13601-3304 315-788-3730

Concordia Lutheran Church 818 Arsenal St Watertown NY 13601-2346 315-782-1260

Asbury United Methodist Church 327 Franklin St Watertown NY 13601-3432 315-782-3240

First United Methodist Church 236 Mullin St Watertown NY 315-782-3033

Bethany United Methodist Church 214 W Lynde St Watertown NY 315-788-7791

First Church Of The Nazarene 535 Thompson Blvd Watertown NY 13601 315-782-3840

River Of Life Fellowship Of Watertown 24650 Hinds Rd Watertown NY 315-786-1955

Holy Covenant Church Of God 207 W Lynde St Watertown NY 315-785-8775

Living Waters Fellowship of Watertown Ny 100 Purdy Ave Watertown NY 13601 315-782-7606

New Testament Fellowship 24419 State Rt 12 Watertown NY 315-779-1531

Family Worship Center Church Of God In Christ 520 Meade St Watertown NY 315-788-4976

Holy Covenant Church Of God 207 W Lynde St Watertown NY 315-785-8775

Christian Life Center 25785 State Route 126 Watertown NY 13601 315-788-6234

Faith Fellowship Church 131 Moore Ave Watertown NY 13601-3506 315-782-4421

Stone Presbyterian Church Reverend, Bruce Smith Stone Presbyterian Church 140 Chestnut St Watertown NY 13601-4319 315-788-8561

Hope Presby Church 518 Leray St Watertown NY 315-782-4961

First Presby Church 403 Washington St Watertown NY 315-782-1750

First Presbyterian Church 403 Washington St Watertown NY 13601-3735 315-782-1750

Salvation Army The 723 State St Watertown NY 315-782-4470

Watertown Seventh-Day Adventist Church 18057 State Route 3 Watertown NY 13601-5580 315-785-0113

All Souls Unitarian Universalist Church 1330 Gotham St Watertown NY 13601-9704 315-788-2742

Emmanuel Congregational Church UCC 119 S Hamilton St Watertown NY 315-782-2650

Christian Life Center A United Pentecostal Church 25785 State Route 126 Watertown NY 13601 315-788-6234

Standard Church Of America 313 Prospect St Watertown NY 315-788-1064

Department Of Christian Formation 866 Arsenal St Watertown NY 315-782-3620

Degel Israel Synagogue 557 Thompson Blvd Watertown NY 315-782-2860


Reception hall and Military centers

Brownville American Legion 245 Washington St Ste 101 Watertown NY 13601-3361 315-782-5380

American Legion Club 138 Sterling St Watertown NY 13601-3311 315-788-0911


Flowers
Allen's Florist And Pottery Shop
1092 Coffeen St, Watertown, NY 13601
Local: 315-786-6300

Price Chopper RR 81 Watertown NY 13601 315-782-5204

Sherwood Florist 1314 Washington St Watertown NY 13601-4532 315-785-9996

Floral Shoppe & Gifts the 1283 Arsenal St Watertown NY 13601-2252 315-782-5204

Gray's Flower Shop Inc 1605 State St Watertown NY 13601-3519 315-788-8441